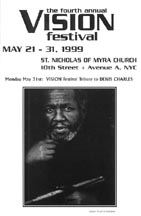 NEW YORK CITY 4TH Annual VISION Festival: Tribute to Denis Charles (1999).
PARIS, FRANCE November 1998
The tribute by French and European musicians was held Sunday, November 22 in Montreuil outside Paris, France. See photos.

DUSSELDORF, GERMANY October 1998
"It's a Trio" Part III
"A TRIBUTE TO DENIS CHARLES"
Thomas Borgmann (sax)
Wilber Morris (bass)
Reggie Nicholson (dr): Free, spontaneous music, which made its greatest impact in Free Jazz of the sixties and seventies, is represented today by a small group of musicians. Thomas Borgmann's trio is unusual in that there is an entire generation ( and more) between the two Black musicians from New York and Borgmann himself. The Berlin sax player first heard Denis Charles in a 1955 recording- the year he was born!! Denis Charles is found on recordings with Cecil Taylor, Sonny Rollins, and Don Cherry, to mention a few. A long musical friendship connects Denis with Wilbur Morris who has been heard in Europe playing with David Murray and Charles Gayle.

JAZZ UNDERGROUND '98: a tribute to drummer Denis Charles. Spring 1998
Music Under New York in conjunction with the Texaco New York Jazz Festival presented Jazz Underground '98 as a tribute to musician Denis Charles.
UNIVERSITY OF THE STREETS May 1998
The first in a series of memorials remembering Denis was held May 2nd, 1998 at University of the Streets. Thank you to all who participated in this event. See our collection of photos.
ST. PETER'S JAZZ CHURCH May 1998
The May 10th, 1998 Memorial at St. Peter's Jazz Church in New York City was cancelled. We hope to have a memorial for Denis there at a later date.
ST. CROIX
Denis Charles was awarded a lifetime achievement in music award during the 150th Emancipation Commemoration festival, on July 11th, 1998 during a concert that was to have featured both Denis and Huss Charles in Frederiksted, St. Croix, USVI. See Photo Gallery.