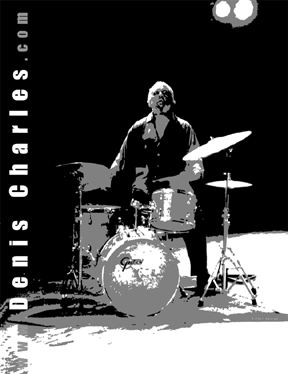 70th BIRTHDAY CELEBRATION FOR DENIS CHARLES

The celebration on December 4, 2003, at Tonic, 107 Norfolk Street between Delancey and Rivington Streets, NYC was a success.

Stay tuned for more info.
Beautiful Denis 70th Birthday Celebration T-shirts and posters available NOW.
Denis' birthday celebration featured those he loved and played with over the years, including Evelyn Blakey, Caren Pepper, Jemeel Moondoc & Connie Carothers, John Voight, Roxanne Butterfly, Roy Campbell, Ted Curson, Buell Niedlinger, Jimmy Vass, Joel Forrester & People Like Us, Montego Joe, Sabir Mateen, Hayes Greenfield, Dave Hofstra, Dave Sewelson, MaryBeth O'Hara, Pheeroan Aklaff, Alex Lodico, Vienna Carol, Jesse Collins Quintet, Rashied Ali, Yoshiko Miura, Rick Della Ratta & Jazz for Peace Band, Joe Gallant, William Parker, painter Marine Penvern, Angela Paccione, sound artist, and surprise guests, including Henry Grimes and Nathan Breedlove!!
Posters (pictured left) are 18"x24", printed on high-quality 80lb. paper. E-mail for purchase and shipping info.

PRICE $10